TFS International is moving to Accolade park in Cheb. The new hall will be utilized for coat-hanger recycling.
The Accolade, the investor, and Panattoni, the developer of industrial parks, confirmed their circular economy orientation and focus on a sustainable future of the European industry. They built a modern hall of 7 800 m2 frugal to the environment in Cheb, which will the German company TFS International utilize to sort and recycle coat-hangers. The useable hangers will return to the retail sales network, the rest will go through the crusher to be recycled. The building is constructed in compliance with the BREEAM certification of sustainability on the "Excellent" level.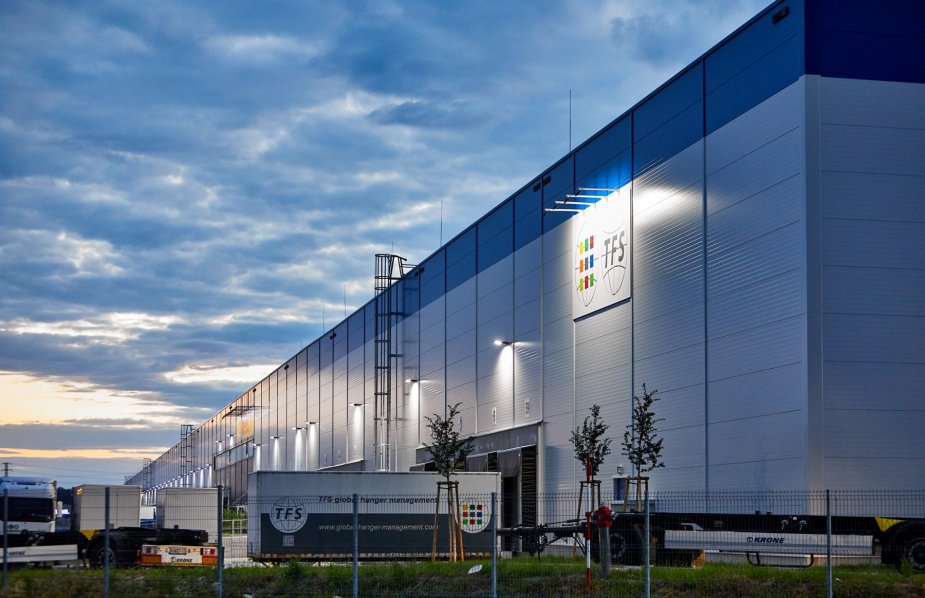 "We are up to date and therefore we want to test processes that fulfill parameters of the Industry 4.0 conception. Business automation and robotization will help us significantly increase the efficiency of a coat-hanger classification. Our goal is to mechanically evaluate the possibility to return a hanger to a store. In the other case it will be passed to recycling." says Bernd Gerrit Bode, executive head TFS International.
"The Cheb District is one of the most attractive areas for modern industrial development in Central Europe. It indicates both, an interest of the world's leaseholders and their focus on sustainable and environmental frugal production. Coat-hanger recycling might seem to be a trifle, but remember, how many hangers do we have at home and how many of them are consumed by big retail chains. The fact, that someone focuses on the sustainability of a specific segment, is very welcomed." says Milan Kratina, CEO Accolade.
"It is a remarkable coincidence. As a Czech leader in brownfield revitalization into industrial parks, we focus among other things on the recycling of structural waste. And now, we constructed a building which will essentially become the center of recycling, ergo the circular economy in practice. Furthermore, in combination with Industry 4.0 principles! The arrival of another German company to Cheb confirms the attractiveness of the Karlovy Vary Region. In other areas of Cheb District we simultaneously finished hall for Real Digital, a giant of German e-commerce." says Pavel Sovička, general director Panattoni for the Czech Republic and Slovakia.
The TFS company was founded in Nordhorn in Lower Saxony in 1990, just under a year after German unification. In 1995 it became a family business when the majority of assets were taken over by two brothers, Bernd Gerrit and Hermann Bode. Thanks to their aspiration to focus on ecology and innovations, the company achieved global importance, because it places fundamentals of refundable coat-hangers, as we know today. The company as one of the few changes a stereotypical view on industrial park employees, since more than half of them are women.