Modern halls as a way to a sustainable future for European business. Zásilkovna and Coca-Cola HBC entered the complex near Brno Airport.
The last months have shown the key importance of modern halls for the European economy and its daily functioning. E-commerce and logistics companies are the driving forces of this trend and are moving their businesses to key locations in Central Europe. Two important business players of the 21st-century enter the strategically well-located multimodal complex near Brno Airport. The modern sustainable hall with an area of 9,500 sqm aspiring to the sustainability certification BREEAM "Excellent" will be used by Coca-Cola HBC and Zásilkovna.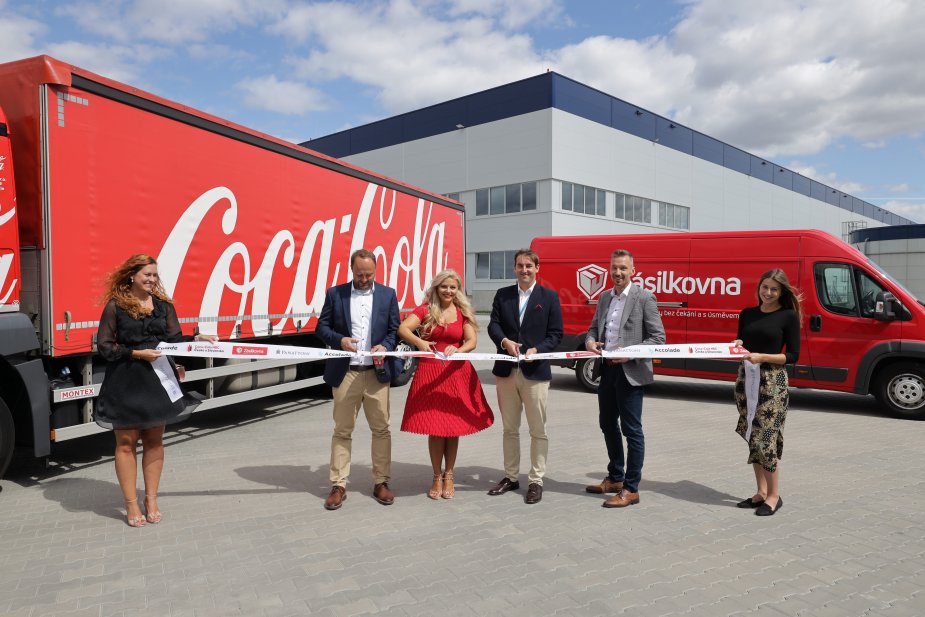 "Spaces for e-commerce, warehousing, and logistics have proven to be a key component of the current European economy and have kept it going even during the most intense quarantine. If we want to be self-sufficient and develop sustainable business on the old continent, the path of modern halls seems to be the right one. Even the biggest players have started thinking again about placing their companies in strategic locations, and it is no wonder that Brno is a good place to be for them. It has an excellent location connecting four key Central European markets and attracts large players. Our new tenants are splendid proof of that. We are slowly fulfilling the goal we have set. To create an attractive multimodal complex around the airport for companies that will believe in this place as much as we do and will continue to their growth here," says Milan Kratina, CEO of Accolade Group, which finances and owns the building.
The new building in the logistics zone near Brno Airport brings a number of innovations not only from a construction, but also from a user point of view. The modular construction system allowed the tenants to use two separate parts of one building in parallel while maintaining good transport services. By combining smart logistics management and choosing conflict-free logistics peak hours during the day, the building has reached an ideal utilization of its surroundings. While Coca Cola HBC's logistics cycle has peak hours in the morning and then again in the late afternoon, Zásilkovna has peak hours in the morning and early afternoon.
"In March of this year, after the introduction of government measures, the very ambitious deadlines for the delivery of space to our clients no longer seemed ambitious, but unrealistic. Despite all the challenges from the accommodation reduction, borders closing, slowing down the supply of materials, the unavailability of homeworkers, we were able to hand over the hall to clients in advance and with the aspiration for BREEAM Excellent certification, thanks to a great team of professionals from Panattoni, Accolade and a number of suppliers," says Pavel Sovička, CEO of Panattoni, which is in the charge of the construction process of the logistic zone.
"The e-commerce sector has been growing continuously for many years. This year, we expect up to CZK 200 billion in turnover in Czech e-commerce, with Packeta expected to transport goods worth approximately CZK 50 billion from this volume. The coronavirus pandemic has also significantly boosted online shopping. In just a few weeks, the biggest peak of the whole season will start for us, namely pre-Christmas shopping. Here, too, we expect record numbers both for the entire e-commerce sector and for the Packeta group, which also includes Zásilkovna. This year, we will probably surpass another magical limit of our ten-year history, namely half a million shipments in a single day. This is a number that only a few of the other carriers will have. That is why we have significantly strengthened the number of our depots, we currently have eleven in the Czech Republic, and by the end of October, we will reach number fourteen. Brno is one of our key and strategic locations. It's great that we, with the help of professionals from Panattoni, managed to open a new depot here during the holidays," explains Simona Kijonková, Founder of Zásilkovna and CEO of Packeta Group.
"Brno is a strategic distribution center for us, from which we serve approximately five thousand of our customers in Moravia, for whom there is an inefficient delivery directly from production plants. I am glad that when looking for a new location for this operation and the entire Brno branch, we found what we are always looking for - a hall in an excellent location (near the motorway junction and at the same time within reach of the city center), with a high-quality standard, important elements of sustainability and a partner who provided us with the necessary flexibility in preparation, excellent customer approach and excellent conditions. In 2012, we transformed the traditional branch with several days of stock in Brno into a relatively unique break-bulk cross-dock distribution model, where we deliver only as many goods on a daily basis as we need for sale the next day. This operation is thus highly efficient for us, now even in more modern conditions - exactly as we need it," adds Jan Turek, Coca-Cola HBC's Supply Chain Manager.
The hall aspires to sustainability certification BREEAM 2016 New Construction "Excellent" and thus ranks among the TOP environmental industrial buildings in Europe. International BREEAM certification guarantees environmental friendliness, a high level of energy self-sufficiency, and above-standard working conditions for employees.