The Accolade Fund experienced a successful year. The portfolio value reaches over EUR 700 million and rental income increased by 35% year-on-year.
Ten new modern and sustainable industrial projects, an expansion of the portfolio area by 30%, almost 400 new qualified investors, and a year-on-year return of 10.02 % in EUR class. The biggest industrial real estate fund in the Czech Republic now owns a total of 16 industrial parks in the Czech Republic, Poland, and Germany with an area of 936,304 sq. m. From the rental income, which was increased by 35%, benefit 1 200 investors.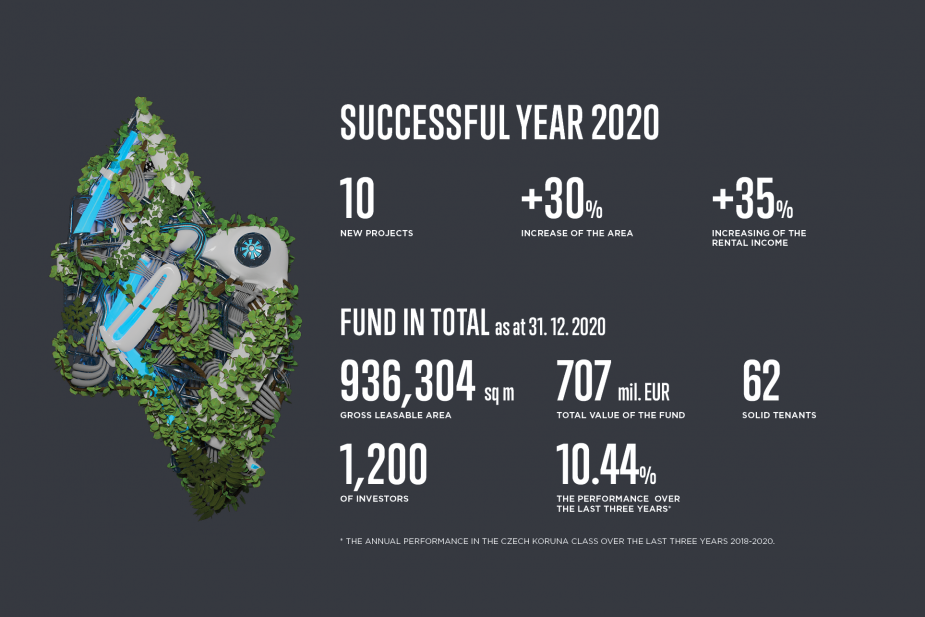 "Last year, modern halls fully confirmed their importance and the infrastructure for modern business has proven to fly the flag for the European economy in every situation, even in the deepest quarantine and recurring lockdowns. E-commerce in Europe grew by more than 27%*, which is significantly reflected in the demand for additional space. At the same time, logistics and, to some people's surprise, industrial production experience growth. In 2021, we will certainly welcome other important tenants from all of the three sectors in our portfolio," comments Milan Kratina, Chairman of the Board of Accolade Industrial Fund.
Despite the current economic crisis, the fund has experienced another successful year and is growing rapidly in all monitored areas. In addition to the increase in leasable space, the portfolio value, and the number of new investors, the Accolade fund is attractive mainly due to the annual rental income growth. This key aspect of revenue increased by 35% year-on-year (from 35.4 million to the current EUR 48 million).
"What is the basis of a quality real estate portfolio? Great locations and great tenants. The year 2020 confirmed both. The growth of existing locations, 100% occupancy of the portfolio, and 100% of paid rents, which, even after six years of existence, significantly surpasses not only the market of Central and Eastern Europe but also the one in Germany. We believe, that the development will continue in the year 2021 year as well. With the advancing revolution in production and especially with the massive revolution in shopping, the demand for modern and sustainable halls is likely to increase. Industrial real estate is, therefore, a great investment opportunity and I am glad that in November we opened active distribution in Slovakia, where our Fund met great interest from the start," added Kratina.
*https://www.emarketer.com/content/global-ecommerce-update-2021