The value of Accolade Fund's portfolio exceeded 1 billion euro.
Accolade Industrial Fund confirms its position as the second-largest real estate fund in the Czech Republic as it reaches two milestones in the third quarter. The value of the fund's portfolio exceeded 1 billion euros, which further confirms the fact that Accolade Fund is growing dynamically. Furthermore, over 2,000 qualified investors are already investing with the fund. The fund's third-quarter performance was 7.36% in the CZK class and 7.86% in the EUR class. The fund's performance reflects the rising price of industrial real estate during 2021. This investment asset has become very attractive to large institutional players whose attention is causing industrial real estate to seek its price level.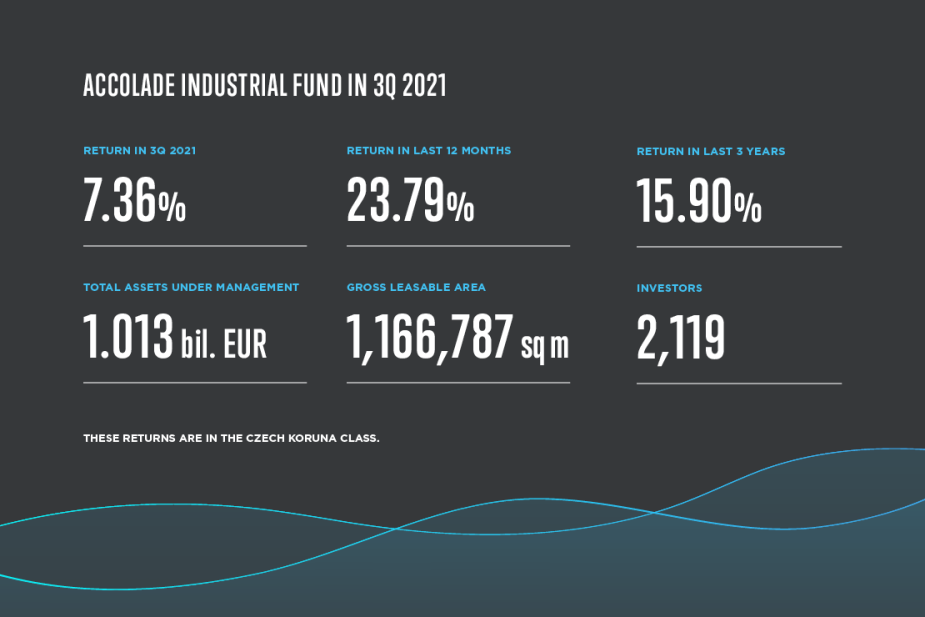 The third quarter of 2021 brought several acquisitions on the Polish and Czech markets. In Poland, three new projects have been added. The European pioneer of e-commerce boxes, InPost, which is present in the Polish parks of Częstochowa, Zielona Góra, Szczecin, and Bydgoszcz, has expanded into two additional locations, Goleniów (8,338 sqm) and Bialystok (8,526 sqm). Investor Accolade has also welcomed another client on the Polish market, Scommerce One, a company specializing in e-commerce services. The latter has leased a 15,000 sqm space in Zielona Góra Park. DHL has also leased in Zielona Góra, confirming its position as the largest tenant in Accolade's portfolio with 20,000 sqm of new space.
Tchibo expanded in the Czech Republic for the third time in the park in Cheb. The newly expanded distribution center, with a total area of over 100,000 sqm, has now become the second-largest industrial rental building in the Czech Republic. In the Ostrov industrial park near Stříbro, over 28,000 sqm have been leased by the new tenant Lear Corporation, which is dedicated to research, development, and production in the automotive sector.
Despite the significant growth, Accolade still emphasizes diversification and reliability of tenants with multi-year lease agreements, which, among other things, aims to ensure long-term stable returns for the fund. The diverse tenant mix comes primarily from the e-commerce, logistics, and light manufacturing sectors.
"From the outset, we have tried to set up the financing of the entire Accolade Fund portfolio in such a way as not to create undue refinancing or interest rate risks. At the moment, the fund has safely locked-in interest rates for a term of more than 5 years. We believe that this financing structure increases the stability of the fund's financing set-up," explains Milan Kratina, CEO of Accolade.
As of 30 September 2021, Accolade Industrial Fund's portfolio consists of 1,166,787 sqm of leasable space for modern and sustainable businesses with a total portfolio value of 1.014 billion euro and more than 2,000 qualified investors.