Accolade follows the ESG values and engages in projects for a sustainable future.
Accolade has been creating a portfolio of modern, environmentally friendly industrial properties for a decade. The group follows the ESG values and commitments for a sustainable future every day and engages in a number of projects in the field of ecology, social areas as education, culture, sport and supporting people in need especially in regions where active. Recent activities for local communities include projects like planting trees, ecological education for students and sponsoring a performance for children from an orphanage.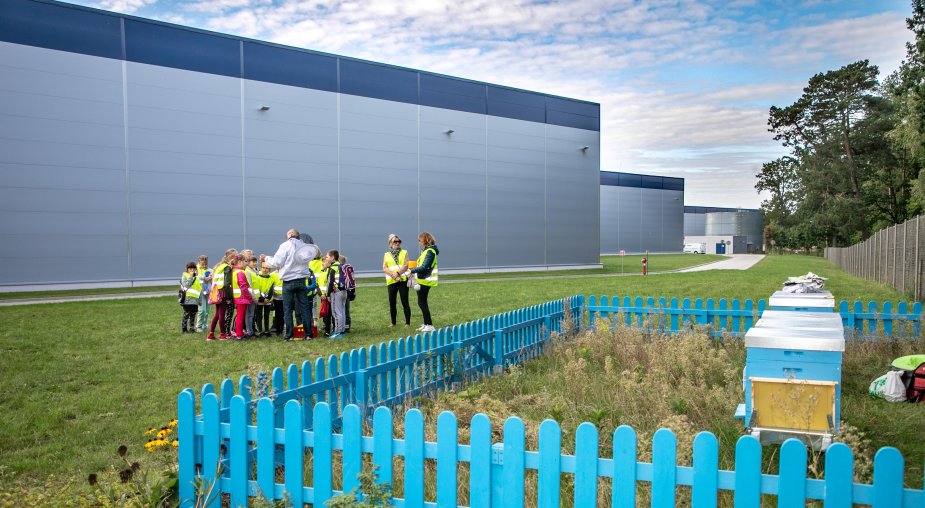 Accolade supports the principles and goals of the UN's long-term ESG strategy, including 1) being environmentally friendly, 2) being a good neighbour and member of society, and 3) being responsible, transparent, and fair, believing that developing these goals is the way to achieve a better and more sustainable future for all. The people of Accolade strive to fulfil the ESG strategy every day and are actively involved personally in these projects.
Accolade's employees recently shared their passion for sustainable and eco-friendly solutions with tenant Raben Group at an industrial park in Kielce, where they co-hosted an Eco-event as part of the European Sustainable Development Week. The event was held under the patronage of the city's president. Its rich program included many activities such as planting trees and shrubs, or painting booths for swifts.
"We are excited to be involved in the development of the regions in which we operate through these activities. It is also great to get to know the local community, with which we can interact and gain relevant information about the regions and their needs. It is simply part of our efforts to be a responsible partner and neighbour and to make the regions a better place to live," commented Michał Białas, Country Head of Accolade Poland.
Similarly, Accolade seeks to inform and educate the younger generation on how European business can be developed in a sustainable and environmentally friendly way. This was precisely the aim of the Eco-tour Accolade organised in an industrial park in Szczecin. Over 80 pupils from a local school learned in an interactive way about the benefits of bees and the importance of trees and other greenery that enrich the local ecosystem.
In addition to education, Accolade also likes bringing joy and helping those who have to deal with difficult circumstances in their lives. Most recently, Accolade helped entertain Polish children from the orphanage in Zielona Góra in cooperation with the "Theatre for One Smile", which has been cheering up children in hospitals and orphanages with theatrical performances for several years. In addition to the theatre performance, the children received toys.
A strong emphasis on the green character of industrial parks can certainly be added to the promotion of a sustainable future. In addition to the pro-environmental construction elements of the warehouses themselves, the Accolade portfolio of industrial zones also includes rich tree planting and greenery, beehives, lizard habitats, relaxation zones for workers, and most recently, the placement of bins made from recycled materials and e-waste containers, where tenants can quickly and easily dispose of, for example, broken/used electrical appliances. All Accolade parks are targeting the international BREEAM sustainability certification.
The list of Accolade's activities that contribute to a more sustainable future is far from complete. The Group also collaborates with and supports other projects and organisations in the social, cultural, sporting and environmental fields, both on a one-off and long-term basis and across the markets in which Accolade operates. More information on how Accolade contributes to a more sustainable future is summarised in the ESG brochure.